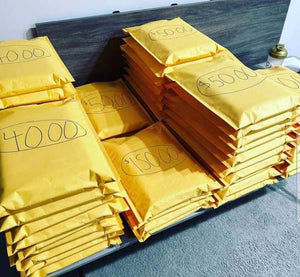 Alright executives, it is FINALLY about that time! The 2nd wave of executive boxes are ready to go, and I am so excited to announce for this wave I will be partnering with Grant's Comics! Grant will be handling the shipping and sales of the boxes I curated! Starting this Thursday at 7 pm eastern wave 2 of the boardroom boxes will be on sale ONLY at Grantscomics.com. This will make the ordering process much easier and streamlined. You will have to go to the website to get a box. Also, as my way of saying thank you for all the support over the years, shipping is FREE for these boxes! Here are the details for the boxes below:

There are $40, $50, $100 and $150 price points.

Every single box includes 1 CGC slab, 1 signed book (some with COA, some not), and 5 raw books and extras.

There are chasers, keys, stickers etc in these boxes.

Most importantly, EVERY box is OVER value!

Much love executives. You will be seeing ALOT more of me in the near future, and I will be posting a reminder for the box drop Thursday evening! Thank you for everything!