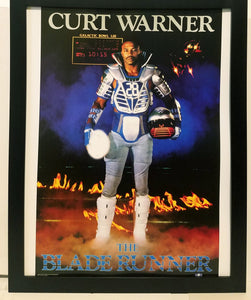 Curt Warner Seahawks 

Costacos Brothers
8.5x11 FRAMED Print Vintage 80s Poster
Officially licensed framed 8.5" x 11" art. NOT a copy.


FAQ:

 

Wait, what is this?? How is it so cheap??

 

The Costacos Brothers' iconic sports posters adorned the bedrooms of an entire generation. Those original posters now can cost hundreds of dollars each but thankfully, the Costacos Brothers reprinted many of those legendary images in 2018 in a frameable 8.5" x 11". To clarify, I do NOT sell unlicensed prints or bootleg copies.
FREE SHIPPING on everything. Always. All items are shipped within 2 business days with UPS or USPS tracking. Everything is packed securely to prevent damages and we do NOT ship Media Mail. U.S. mailing addresses only.